Windows 8 On Dell XPS M1530 (Download All Drivers) 64 Bit
Hello World , Today (Jan 1 2013) I successfully installed windows 8 pro with media center  on my four year old DELL XPS M1530 !
I got this laptop in the late 2008 Pre Installed windows vista Home premium ! That was a big tragedy . But later I upgraded to windows 7. Really windows 7  were unleashed the full power of this desktop replacement CRAP ! (Now it is 2013 so Net book replacement !!! )
My Custom Configuration
Core 2 Duo T9300 Processor
3GB Ram 800 MHZ
256 MB DDR3 Nvidia 8600M GT
320 GB 7200 RPM HDD
Ultra Sharp HD Display @ 1440×900
Finger Print Reader e.t.c
Installing Windows 8 
i was using windows8 developer preview for a long time . But I didn't care about things does not work. Example Touchpad gestures  , IDT audio functions etc.
Really A Problem Starts here for finding working drivers ! But Thank god i got Almost all drivers !
Here is the list of hardware drivers I used after installation .
Just Download and Install them Enjoy Windows 8 .
1) Sigmatel IDT Audio Driver
Very Hard to find a working driver for IDT devices . The company have a website but there are no drivers (I can't find)
Thank god Most of the windows7 & Vista Drivers are compatible with Windows 8 !
Download Sigmatel IDT Audio Driver For Xps M1530
2) Dell Alps Touchpad
Dell Never Release Any Driver for Windows7 ! But the company still supporting the device and making driver for HP and other brands even for dell in other models .
I found a fully working one here is it .
3) Dell Finger Print Reader Driver
This one is easy to find . Windows 8 will give us directions
4) XPS M1530 Bluetooth Driver for Windows 8
This part of hardware will not work (install never find hardware) just press cancel and restart !! i will start working
5) RICHO , INTEL Chipset INF UPDATE , Dell QuickSet e.t.c
This things also need if you need a perfect windows 8
Now one thing is still not working DELL IR REMOTE (May be battery dead ) i never used that ! So I have not any problem with that !

If  you have any Questions  please ask in the comment section .
UPDATE : 2/13/2013
Latest Windows Update (a big file 150MB+) Improved My Score !!

Now 5.6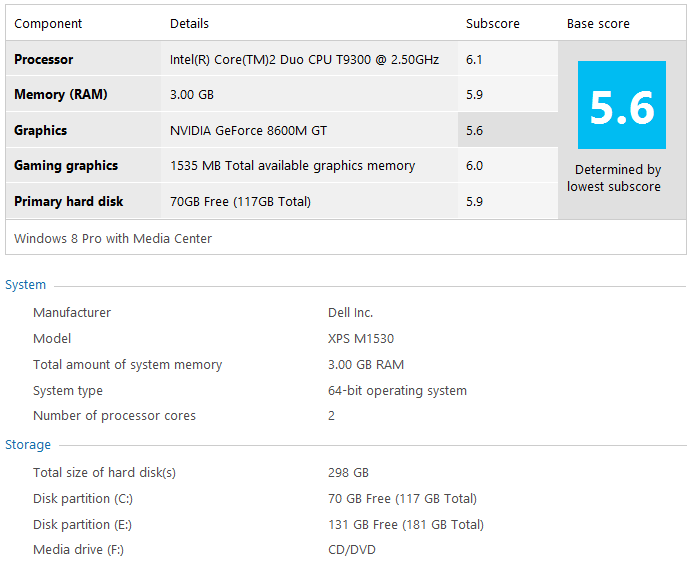 Recommended Articles