5 Free Website Load Time Testing Web Based Performance Test
You are a Website/Blog Owner ? , This is very important that you should bother about the performance of your site .Yor website loading time is very important , may be your content is #1 in the world but your users are always "waiting for a web page to load" That is crazy ! , So you need to optimize your website . Here i found some cool online web based website load time testing tools !
1)  gtmetrix.com
GTmetrix is a free tool that analyzes your page's speed performance.  Using Page Speed and YSlow, GTmetrix generates scores for your pages and offers actionable recommendations on how to fix them.
My results
2)  browsermob.com
Neustar Web Performance load testing and website monitoring provides a low-cost, reliable cloud testing solution using both virtual and real web browsers from a variety of locations.
My results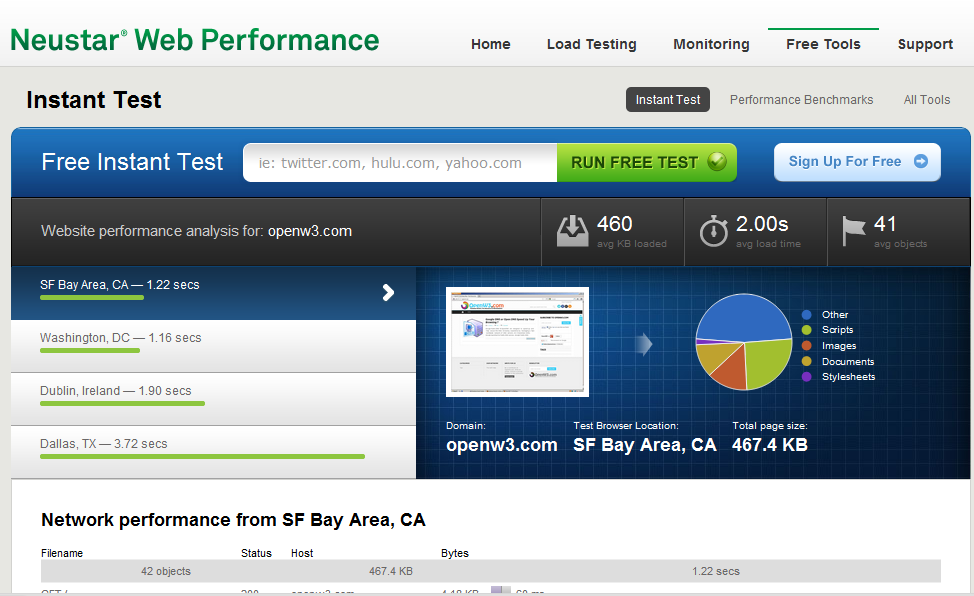 3)  pingdom.com
Examine all parts of a web page – View file sizes, load times, and other details about every single element of a web page (HTML, JavaScript and CSS files, images, etc.). You can sort and filter this list in different ways to identify performance bottlenecks.
Performance overview – We automatically put together plenty of performance-related statistics for you based on the test result
Performance grade and tips – See how your website conforms to performance best practices from Google Page Speed (similar to Yahoo's Yslow). You can get some great tips on how to speed up your website this way.
Trace your performance history – We save each test for you so you can review it later and also see how things change over time (with pretty charts!).
Test from multiple locations – See how fast a website loads in Europe, the United States, etc.
My results
4)  rapid.searchmetrics.com

My results
5)  webwait.com
Myresults
Your website is too slow ? what to do is optimize your html,css,jquery e.t.c there are proven methods to optimize the website and it will load in few seconds .
Recommended Articles
Subscribe to OpenW3.com